My main destination of this Wakayama trip was Wakayama castle and Kisyuu Tousyougu as I wrote by yesterday on ths blog. And I had visited other good places. I'll write the others of this trip today.
First one is Ohashi-rouka (お橋廊下). Ohashi-Rouka means, corridor bridge with roof. This building was built for walking between the house of the Feudal lord (大名)and the beautifu garden (紅葉渓庭園).
And the internal of the building was like this.
I also went to the 'Wakayama-history museum'. When I bought the ticket of Wakayama-castle, the ticket of the museum was also included. So I went there ,too.
This is the gold seal. And it's a little intresting. Each small one will be contained into the big one.
And the lunch I ate there was 'Kisyuu-Ramen' (紀州ラーメン) at the restaurant 'Marui' 「まるイ」. When I orderd normal ramen, the ramena has many many green onion on the ramen like this picture.
I also went to Oka-park (岡公園) near the 'Kanazawa-castle'. There were a steam locomotive and Erectric train.
In addition to that, there weer memorial monument , and
Goddess of Mercy (観音様), and
Figure of 'Munemitsu Mutsu' (陸奥宗光) .
And after walking a little, there were 'Nagaya-mon' (長屋門), too. Originally the building was in another place, but after escaping from big fire of the war, this was moved here for sightseeing.
I also went to 'Wakaura-Tenmanguu' (和歌浦天満宮). It is the god of academics that celebrates 'Mitizane-Sugawara'(菅原 道真)
I also went to Wakayama fishing port.
This is 'Shirasu-don' (しらす丼). Young-herring on the rice. It's pretty reasonable (600-yen).
And this day, there were a lot of the people who wore the clothes of Santa Clause. The reason why is the event of Wakayama Santa Run.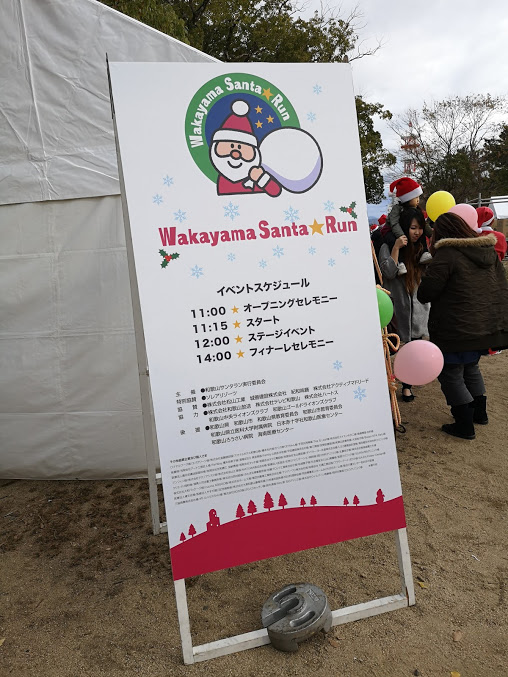 I have more pictures of Wakayama-travel, but probably I could write about this trip of Wakayama, I think.